So, as you can see in my previous posts, I've travelled the length and breadth of the French Riviera.
Like my mom, Christine, I'm an epicurean.
This time, I tested Nice's nightlife.
Here's a list of the best bars in Nice (Provence) where you can have fun all night if you want.
Amusez-vous bien les amis 🙂
— Louise
PS : don't hesitate to comment your best bars in Nice !
Read Also : Where Is Provence ?
16 Best bars In Nice (My Selection)
And here is my personal selection of the 16 best bars in Nice (France):
16. Chupito Loco Nice – 4/5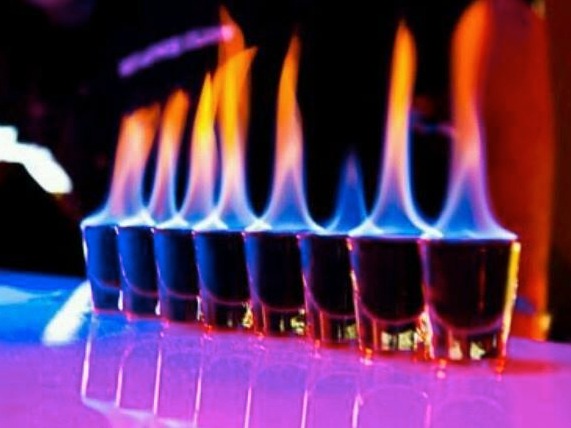 My personal opinion:
I loved the vibrant atmosphere and affordable, tasty shots at this bar in Nice, but the place could be a bit more inviting and less odorous. If you're a night owl like me, it's worth checking out!

Louise
15. Waka Bar – 4/5
My personal opinion:
At the Waka Bar in Nice, I relished the splendid sea views and the delightful chicken salad, yet found the place could benefit from some ambient music to elevate the atmosphere.

Louise
14. Movida – 4.1/5
My personal opinion:
I found this bar in Nice quite charming with a wide variety of affordable drinks and pleasant decor.

Louise
13. Le Bateleur – 4.1/5
My personal opinion:
At this Nice bar, I loved the lively ambiance and was pleasantly surprised by the affordable glasses of good wine. Service was a little slow so you might need some extra patience on busy nights.

Louise
12. Ma Nolan's Irish Pub – 4.2/5
My personal opinion:
This pub in Nice provides a cozy atmosphere and very good drinks, with staff like Matias and Jolana making your visit special.

Louise
11. Master Home Nice – 4.3/5
My personal opinion:
This historical pub in Nice boasts a vast selection of wines and charming Corsican bites, with the staff being wonderfully friendly. You should consider avoiding their cheese platter, as it fell short of my expectations in taste and authenticity.

Louise
Top 10 Best Bars In Nice (France)
Here is my personal selection of 10 best bars in Nice :
10. O'Neill's Pub – 4.3/5
My personal opinion:
I found this bar to have a captivating atmosphere with an interesting open mic night, offering various beer options. Inconsistent payment methods and the lack of food were a downside. It's a fun place, but you might want to eat first and carry cash.

Louise
9. Bella Ciela Nice Bar & Rooftop – 4.3/5
My personal opinion:
I found the bar's atmosphere inviting with a selection of good drinks, and the view is absolutely stunning. You should be prepared for higher than average prices and potentially slow service on busy evenings.

Louise
8. Wayne's Bar – 4.3/5
My personal opinion:
This bar offered an electric vibe with talented live bands every night, well-cooked food, and friendly staff; although the sound quality was underwhelming and the price of the pints felt quite steep. It's a bustling spot you shouldn't miss, just be prepared for the cost.

Louise
7. Lunatiki – 4.4/5
My personal opinion:
Immersed in the vibrant ambiance and stunning port views, I was enchanted by the inventive cocktails and friendly staff. A witnessed act of unprofessionalism from the owner was a sour note on an otherwise enjoyable experience.

Louise
6. Les Distilleries Idéales – 4.4/5
My personal opinion:
I admired the lively atmosphere and robust drink selection at this tucked-away bar in Old Nice. I found the waiting time for service somewhat longer than anticipated. But the charm of the place and the friendly crowds more than made up for the minor delay.

Louise
5. Snug And Cellar – 4.5/5
My personal opinion:
I reveled in the warmth and camaraderie of this pub in Old Town Nice, complete with affordable drinks and good live music. That said, its snug atmosphere may not appeal to everyone, particularly if you're seeking a more spacious locale for your night out.

Louise
4. Diane's – 4.6/5
My personal opinion:
In my evening spent at this lively bar in Nice, I was enamored by the cozy atmosphere, creative decor, and vibrant music, truly a unique spot. I was a bit put off when compelled to order food with my drinks, something to keep in mind for those with dietary restrictions.

Louise
3. Trafalgar Nice – 4.6/5
My personal opinion:
I was fond of the atmosphere and diverse rum-based drinks at this unique bar in Nice, making it a spot I'd highly recommend. Be prepared for potential language barriers and perhaps underwhelming cocktails, as not every mix seemed to hit the mark.

Louise
2. TIPSY – 4.8/5
My personal opinion:
Exploring Nice, I found myself charmed by this bar nestled in the heart of the old town, offering unique cocktails and a welcoming atmosphere. Be aware, the lively ambiance can become quite overwhelming as the night progresses, perhaps not ideal for everyone.

Louise
1. Barbacane Bar – 4.8/5
My personal opinion:
I must admit, Barbacane charmed me with its exquisite cocktails and commendable service, simply have made it a must-visit during my stay in Nice.

Louise
---
Do you know the expression "les oiseaux de nuit"?
It's a French expression that translates directly to "the birds of the night."
It's used to describe people who are active during the night 🙂
People who tend to stay up late, often enjoying nightlife activities such as going to bars, clubs, or other evening entertainment.
In English the term is "night owls".
So , à bientôt "mes oiseaux de nuit" :)!
— Louise
---
---
You also ask about best bars in Nice :
Is nice good for nightlife?
Absolutely! Nice is good for nightlife.
In my opinion, this city boasts a vibrant nightlife scene.
Its array of cocktail bars and wine lounges cater to diverse tastes.
From enjoying live music in Old Town to savoring world-class cocktails with stunning sea views, Nice offers a memorable nightlife experience.
And to keep the party going, you can dance the night away at the High Club.
This is one of the biggest nightclubs in Nice, renowned for its electrifying atmosphere, VIP sections, and famous DJs spinning a mix of house, RnB, and hip-hop.
What bar in Nice do you dance on tables?
Here are 2 others bars renowned for dancing on the table :
Wayne's Bar: It's the number 8 of my list 🙂
This bar is famous for its raucous atmosphere where patrons often end up dancing on tables.
With live bands every night and a lively, friendly crowd, it's a go-to place for those looking to have a fun, rowdy night.
Pompei Club: Known for its high-energy parties and dance events, this is a place where dancing on tables is not a surprise.
---
Visiting France :