Where is Normandy in some quick Questions/Answers, straight to the point !
Where Is Normandy ? My complete answer
1. What country is Normandy in today?
Normandy is in north-west of France, Europe.
Normandy is a French region situated about 200 km from Paris, capitale of France.
2. Is Normandy a country ?
No, Normandy is not a country.
Normandy is a region of France (north-west) in Europe
3. What is Normandy called today?
It is still called "Normandy" in English or "Normandie" in French.
Please listen pronunciation of "Normandie" in French (sound mp3) :
4. What is Normandy famous For?
Normandy is famous for a lot of things, like :
Le Mont-Saint-Michel
D-Day landing beaches (World War II)
Historical landmarks (WW2)
Camembert cheese
Drinks : Calvados, cider, tripes…
Picturesque landscapes : white chalk cliffs
…etc
5. Is Normandy in France or Germany?
Normandy is in France, about 200 km northwest of Paris.
And Normandy is over 755 km from Germany and about1 000 km by road with your car! 🙂
6. How Far Is Normandy From Paris?
Normandy is about 200 km from Paris :
3 hours by car (200 km)
2 hours by bus
2 hours by train
11 hours by bike (190 km)
37 hours (178 km) by foot !!! :-p
PS : from center of Paris to the entrance to Normandy (not D Day beaches be careful !)
---
Normandy Map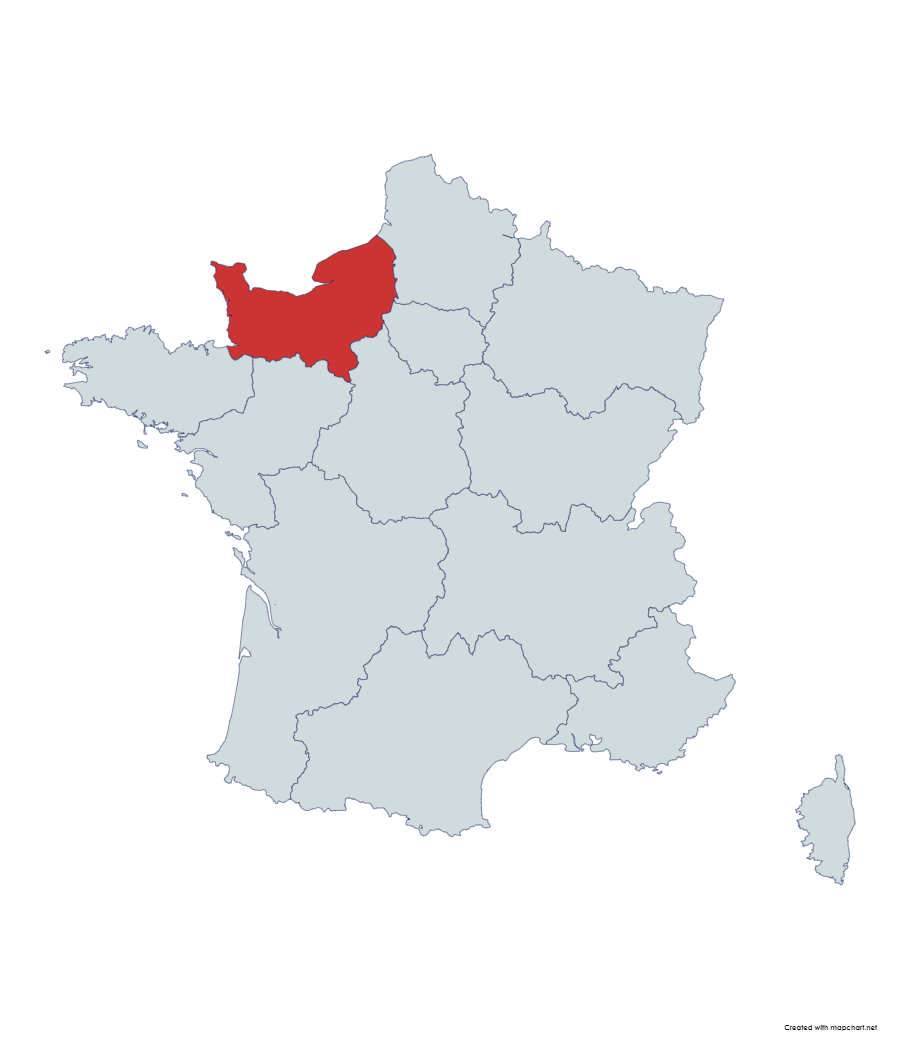 ---
The Region Of Normandy In Details
Area : 30 627 km² (equivalent to the area of USA States of Maryland, Hawaii, Massachusetts or Vermont)
Population : 3,3 millions (official governmental source of INSEE)
5 Departments : Calvados, Eure, Manche, Orne, Seine-Maritime
Major Cities : Rouen (capital or prefecture), Rouen, Honfleur, Caen, Bayeux, Giverny, Etretat, Le Havre, Dieppe…
Top things to do in Normandy : Mémorial de Caen, Cathédrale Notre-Dame de Rouen, Normandy American Cemetery, Fondation Monet in Giverny, Airborne Museum, Musée de la Tapisserie de Bayeux, Mont Saint-Michel…
Famous food : Camembert, Livarot, Pont-l'Évêque, Neufchâtel, Calvados, Cidre (Cider), Tarte aux pommes (Apple tart), Teurgoule (rice pudding), Tripes à la mode de Caen, Andouille de Vire, Canard à la Rouennaise (Duck in Rouen style), Oysters from Saint-Vaast-la-Hougue, Boudin noir de Mortagne (Blood sausage), Crème d'Isigny (cream), Moules à la crème Normande (Mussels in Normandy cream sauce)…etc
---
Normandy Weather : oceanic, temperate and variable climate
Normandy enjoys a temperate climate, due to air masses coming mainly from the Atlantic.
The oceanic climate also generates :
precipitation in all seasons, decreasing overall from west to east,
a relatively small temperature range, increasing in the same direction.
Winter in Normandy
Winter is characterized by wet, cool and windy weather, due to the southward shift in influence of the Icelandic low-pressure system.
Summer in Normandy
Summer is generally mild and less disturbed, thanks to the northward shift of the Azores anticyclone and the greater frequency of calm, clear weather.
Seasonality of precipitation (rain)
---
The Ultimate Guide To Visit Normandy
Are you planning a trip to Normandy?
Please read all our tour guides about Normandy, a wonderful region of France with a lot of things to do :
---
Visiting France :